Posts for tag: Teeth Whitening
By Modern Dental Group
February 20, 2016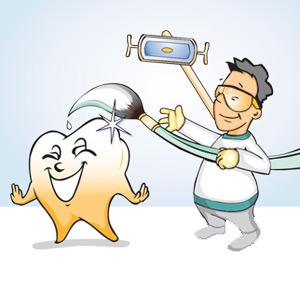 Whether performed in a dental office or using a home kit, teeth whitening applications are quite effective for bleaching exterior (extrinsic) stains on enamel surfaces. But what if your discoloration comes from inside the tooth? In this case, extrinsic teeth whitening won't work — you'll need to undergo an "internal bleaching" method, which can only be performed in a dentist's office.
There are a number of causes for "intrinsic" staining, including too much fluoride exposure or tetracycline use during childhood. One of the more common causes, though, occurs from root canal treatments used to remove the remnants of the pulp tissue inside a tooth's pulp chamber and root canals. Certain cements used during the procedure to help seal in the filling material and leftover blood pigments can cause the tooth to darken over time.
To alleviate this discoloration, we use a bleaching agent, usually sodium perborate mixed with a diluted solution of hydrogen peroxide to achieve a safe, accelerated color change. After determining that the root canal filling is still intact and the bone is healthy, we create a small cavity in the back of the tooth to access the pulp chamber. The chamber is cleaned of any debris or stained material and then thoroughly irrigated. The original root canal filling is then sealed off to prevent leakage from the bleaching agent.
We then place the bleaching agent in the cleaned-out space with a cotton pellet and seal it in with a temporary adhesive. This step is repeated for several days until we achieve the desired shade of white. Once that occurs we then seal the dentin with a more permanent filling and then restore the cavity we created with a composite resin bonded to the enamel and dentin.
If we're successful in achieving the desired color, intrinsic whitening could help you avoid more costly options like veneers or crowns for an otherwise healthy and attractive tooth. The end result would be the same — a beautiful smile without those unsightly stains.
If you would like more information on treating internal tooth stains, please contact us or schedule an appointment for a consultation. You can also learn more about this topic by reading the Dear Doctor magazine article "Whitening Traumatized Teeth."
By Modern Dental Group
November 15, 2013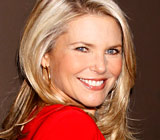 Christie Brinkley's world-famous smile has graced the covers of countless magazines for over 30 years. In fact, in her own words from an interview with Dear Doctor magazine, the supermodel said, "I think my smile was really my passport to success in the modeling industry." And while most of her smile's appeal comes naturally, Christie does give it a boost with good oral hygiene, regular dental checkups and tooth whitening. As Christie says, "When it comes to teeth, keep it as natural as possible. Do not go overboard on whitening. You want your teeth to compliment your face…your friends should not be required to wear sunglasses when you smile!"
Aside from some potential minor side effects such as tooth sensitivity, whitening teeth through bleaching is a relatively inexpensive way to brighten your smile conservatively and successfully. There are three common methods, as described below:
An external or vital approach where "vital" (living) teeth are bleached through direct contact to the tooth's surface.
An internal or non-vital approach where the tooth is whitened from the inside during a root canal treatment.
A combination approach in which both internal and external bleaching techniques are used.
But what causes teeth to become discolored?
Tooth discoloration can be caused by a traumatic blow to your teeth resulting in nerve tissue (pulp) death. However, there can be many other causes: consuming or using products that stain the teeth such as coffee, tea, cola, tobacco products and red wine, to name just a few. Aging is another factor, as it results in changes in the mineral structure of the tooth as the enamel, the outermost layer, loses its beautiful and youthful translucency. Other causes include exposure to high levels of fluoride; tetracycline, an antibiotic, administered during childhood; inherited developmental disorders and jaundice in childhood; and tooth decay.
The good news is that we routinely brighten smiles through tooth whitening. To learn more about brightening your smile, continue reading the Dear Doctor magazine article "Teeth Whitening." Or if you are ready to have your teeth professionally whitened, contact us today to schedule an appointment so that we can conduct a thorough examination and discuss your whitening treatment options. And if you want to read the entire feature article on Christie Brinkley, continue reading "The Secret Behind Christie Brinkley's Supermodel Smile."
By Modern Dental Group
October 23, 2013
Smile! It's Picture Time
The crisp air is settling in, and the countdown to the holidays has begun. For some people, it's a time to eat delicious holiday comfort food: turkey, cranberry sauce and stuffing, among others. Before you think about wrapping presents or making a grocery list, think about those holiday pictures. Some people love holiday pictures, but a few might try to sneak away at the last second. Whatever the case, you want to have a bright smile.
If you live in the surrounding area of Erie, PA, dental whitening is a simple task you can check off your to-do list. Don't fuss over sticky and messy whitening strips/trays that you bought from the store. Play it smart. Let the Modern Dental Group take care of your dental whitening in Erie, PA.
Let the Professionals Handle It
Professional teeth whitening promises better results than over-the-counter products, so your teeth look whiter and picture perfect for that family photo. Drs. Shawn Casella, David DeMarco and David James DeMarco can monitor the procedure, so you won't leave the dental office with a frown.
Whats your favorite part of the holiday season?