Posts for: February, 2019
By Modern Dental Group
February 18, 2019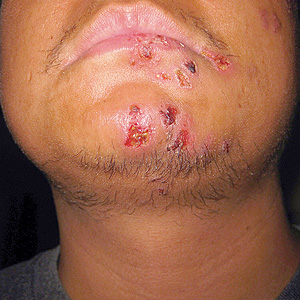 If you had chicken pox as a child, you're at higher risk for a painful viral infection later in life called shingles. Besides a painful skin rash and other symptoms that can develop, shingles could also affect your dental care.
About 90% of children contract chicken pox, a disease caused by the varicella zoster virus (VZV), which usually clears up on its own. But later in life, usually after age 50, about a quarter to a third of chicken pox patients will develop shingles.
The onset of shingles usually produces an itching or burning sensation on the skin that's either numb or overly sensitive to the touch. A red rash may ensue with crusty lesions, accompanied sometimes by pain, fever and fatigue. The rash often forms a belt-like or striped pattern along one side of the face or body.
For most patients this painful rash is the extent of their symptoms. But women who are pregnant, patients undergoing cancer treatment or people with compromised immune systems are at risk for more serious complications if they contract the disease. It's important for these at-risk patients to obtain a vaccination, as well as avoid contact with anyone with shingles.
Which brings us to your dental care: in its early stages shingles can be contagious, the virus passing to others through skin contact or by airborne respiratory secretions. That's why it's important if you're currently experiencing a shingles episode that you let us know before undergoing any kind of dental work.  Even a routine teeth cleaning with an ultrasonic device could disrupt the virus and increase the chances of it spreading to someone else. We may need to postpone dental work until the virus is under control.
Antiviral drugs like acyclovir or famciclovir are highly effective in bringing the disease under control, especially if treatment starts within three days of the onset of symptoms. And don't forget the shingles vaccination: the U.S. Center for Disease Control recommends it for anyone 60 or older regardless of a past history with chicken pox.
See your physician as soon as possible if you begin to notice symptoms. Don't let shingles interfere with your life — or your dental care.
If you would like more information on the impact of shingles and similar viruses on dental care, please contact us or schedule an appointment for a consultation.
By Modern Dental Group
February 08, 2019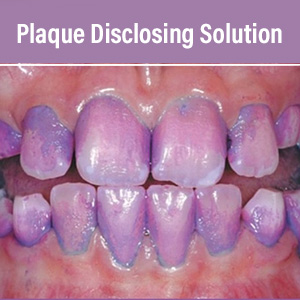 Brushing and flossing your teeth provides a lot of benefits, including a brighter smile and fresher breath. But the primary benefit—and ultimate goal—is removing dental plaque. This biofilm of bacteria and food remnants on tooth and gum surfaces is the number one cause for dental disease.
Brushing and flossing can effectively keep plaque under control. Unfortunately, plaque can be a stubborn foe, hiding in areas easily missed if you're not thorough enough.
So how do you know you're doing a good job brushing and flossing? One quick way is to use your tongue or dental floss to feel for any grittiness, a possible sign of remaining plaque. Ultimately, your dentist or hygienist can give you the best evaluation of your hygiene efforts during your three or six-month checkup.
But there's another way to find out more definitively how well you're removing plaque in between dental visits: a plaque disclosing agent. These over-the-counter products contain a dye solution that stains plaque so it stands out from clean tooth surfaces.
A disclosing agent, which can come in the form of tablets, swabs or a liquid, is easy to use. After brushing and flossing, you apply the agent according to the product's directions. The dye reacts with plaque to stain it a distinct color. You may also find products with two-tone dyes that stain older and newer plaque different colors to better gauge your overall effectiveness.
You then examine your teeth in the bathroom mirror, looking especially for patterns of missed plaque. For example, if you see dyed plaque running along the gum line, you'll know you need to concentrate your hygiene there.
After observing what you can do to improve your future efforts, you can then brush and floss your teeth to remove as much of the dyed plaque as you can. The staining from the dye is temporary and any remaining will fade over a few hours.
Using a disclosing agent regularly could help you improve your overall hygiene technique and reduce your risk of disease. Ask your dentist for recommendations on products.
If you would like more information on improving your oral hygiene, please contact us or schedule an appointment for a consultation. You can also learn more about this topic by reading the Dear Doctor magazine article "Plaque Disclosing Agents."