Posts for: March, 2018
By Modern Dental Group
March 30, 2018
Daily fatigue or complaints of your snoring from family have led you to see your doctor about the problem. After an exam and a test session in a sleep lab, your problem now has a name — obstructive sleep apnea.
This common sleep-related breathing disorder (SRBD) occurs when the soft tissues in the back of the throat over-relax during sleep. The relaxed tissues obstruct air flow to the trachea (windpipe) and cause "apnea," where you cease to breathe. The lack of oxygen causes you to wake, even for a micro-second, to begin breathing again. This may occur multiple times throughout the night, diminishing the quality of your sleep and leading not only to drowsiness and daily fatigue but also contribute to cardiovascular disease or other systemic conditions.
The most effective treatment for sleep apnea is the use of a Continuous Positive Airway Pressure (CPAP) machine while you sleep. The machine delivers pressurized air to a face mask you wear while you sleep; the additional pressure keeps the airway open. However, a CPAP machine does have a few disadvantages, including discomfort while attached to the machine, nasal congestion and dryness, or claustrophobia. These effects can be so pronounced for some patients, they're unable to adjust themselves to the machine.
If you have mild to moderate sleep apnea, there may be an alternative — a custom-fitted oral appliance we manufacture for you to wear in your mouth while you sleep. The appliance pulls the lower jaw forward resulting in a wider opening of the airway. In addition to being less cumbersome than a CPAP mask, an oral appliance is easier to wear, compact in size for easy travel and doesn't require electricity.
While an oral appliance is an effective alternative to a CPAP machine for many patients, it does have a few disadvantages including problems with saliva flow (too much or too little), muscle or teeth soreness and minor tooth or jaw movement. Still, an oral appliance might be the right solution to relieve your sleep apnea over the long-term.
If you would like more information on treatments for sleep apnea, please contact us or schedule an appointment for a consultation. You can also learn more about this topic by reading the Dear Doctor magazine articles "Sleep Disorders & Dentistry" and "Sleep Apnea FAQs."
By Modern Dental Group
March 15, 2018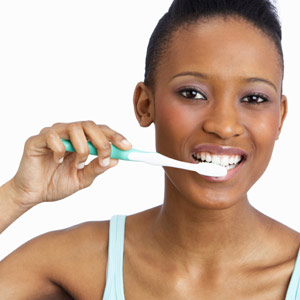 Daily personal care is essential for optimal oral health. Brushing and flossing in particular keep bacteria and acid, the main causes of dental disease, at manageable levels. But to gain the most benefit from your personal care, you need to perform these tasks effectively with the proper techniques and equipment.
For most people brushing begins with a soft-bristled, multi-tufted toothbrush with fluoride toothpaste that helps strengthen enamel. You should hold the brush at a slight angle and brush with a gentle motion to remove plaque, the main cause of gum disease and tooth decay — if you're too aggressive by brushing too hard or too long, you could damage the gums. You should brush no more than twice a day for two minutes, and at least thirty minutes to an hour after eating to allow saliva time to neutralize any remaining acid and help restore minerals to enamel.
Although some people find flossing difficult to perform, it remains an important component of daily care. Flossing once a day removes plaque from between teeth where a brush can't reach. If you need help with your technique using string floss, we'll be glad to provide instruction at your next visit. If you have bridges, braces or other dental restorations or appliances that make string flossing difficult, you might consider other options like floss threaders or a water flosser.
There are also dietary and lifestyle choices you can make to enhance your daily care: limit sugary or acidic foods to mealtime and avoid between meal snacks to reduce bacteria and acid in the mouth; drink water to keep your mouth moist, which will inhibit plaque buildup; and stop tobacco use, excessive alcohol consumption and chewing habits like clenching or biting on hard objects. Above all, be sure to visit us at least twice a year for cleanings and checkups, or when you notice abnormalities like bleeding gums, pain or sores.
Keeping your teeth and gums healthy can be done, but it requires a daily care commitment. Performing these hygiene habits in an effective manner will help preserve your teeth for a lifetime.
If you would like more information on effective oral care, please contact us or schedule an appointment for a consultation.