Posts for: June, 2015
By Modern Dental Group
June 16, 2015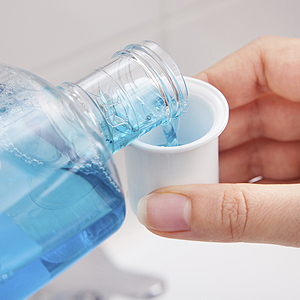 Many people use a mouthrinse as part of their daily oral hygiene. If you'd also like to include a mouthrinse in your regimen, the kind you choose will depend on what you want it to do for you.
If your main desire is fresh breath, then a cosmetic rinse that imparts a minty smell to the mouth should fit the bill. That, however, is all they do — cosmetic mouthrinses don't contribute to oral health beyond your personal satisfaction that your breath is free of bad odors. But, if you want more — added protection against dental disease, for example — then you'll need to consider a therapeutic mouthrinse.
Therapeutic mouthrinses are usually described as anti-cariogenic (prevents decay) or anti-bacterial, and include both over-the-counter (OTC) and prescription rinses. Their purpose is to either strengthen teeth or reduce the mouth's bacterial levels. Of the OTC variety, most contain a small amount of sodium fluoride, which can strengthen tooth enamel. They've proven highly effective: a number of studies show using a sodium fluoride mouthrinse in conjunction with brushing and flossing reduces the chances of new cavities forming.
A number of OTC rinses also have an anti-bacterial effect, usually provided by active ingredients such as triclosan, zinc or essential oils like menthol. Even a slight reduction in bacteria can help lessen the chances of gingivitis (gum inflammation), an early form of periodontal (gum) disease. Reducing bacteria levels may also help alleviate bad breath.
Some individuals, though, have higher than normal levels of bacteria, or a systemic weakness in fighting certain bacterial strains. If this is your case, you might benefit from a prescribed mouthrinse intended to lower bacterial levels. Most prescription mouthrinses contain chlorhexidine, which has been amply demonstrated as an effective anti-bacterial control of tooth decay and gum disease. Chlorhexidine prevents bacteria from adhering to the teeth and so disrupts plaque buildup, the main cause of dental disease. Its prolonged use will result in the dark staining of teeth in some people, but this can be removed during dental cleanings and teeth polishing. Long-term use is generally not preferred compared to getting the proper attention from regular cleanings and examinations.
If you would like more advice on adding a mouthrinse to your daily hygiene regimen, especially to help reduce your risk of dental disease, please feel free to discuss this with us at your next checkup. Regardless of which type of mouthrinse you choose, they should always be used as a complement to daily brushing and flossing, along with regular dental cleanings and checkups.
For more information on mouthrinses, please contact us or schedule an appointment for a consultation. You can also learn more about this topic by reading the Dear Doctor magazine article "Mouthrinses."
By Modern Dental Group
June 01, 2015
A recent episode of "America's Got Talent" featured an engaging 93-year-old strongman called The Mighty Atom Jr. The mature muscleman's stunt: moving a full-sized car (laden with his octogenarian "kid brother," his brother's wife, plus Atom's "lady friend") using just his teeth. Grinning for host Howie Mandel, Atom proudly told the TV audience that his teeth were all his own; then he grasped a leather strap in his mouth, and successfully pulled the car from a standstill.
We're pleased to see that the Atom has kept his natural teeth in good shape: He must have found time for brushing and flossing in between stunts. Needless to say, his "talent" isn't one we'd recommend trying at home. But aside from pulling vehicles, teeth can also be chipped or fractured by more mundane (yet still risky) activities — playing sports, nibbling on pencils, or biting too hard on ice. What can you do if that happens to your teeth?
Fortunately, we have a number of ways to repair cracked or chipped teeth. One of the easiest and fastest is cosmetic bonding with tooth-colored resins. Bonding can be used to fill in small chips, cracks and discolorations in the teeth. The bonding material is a high-tech mixture of plastic and glass components that's extremely lifelike, and can last for several years. Plus, it's a procedure that can be done right in the office, with minimal preparation or discomfort. However, it may not be suitable for larger chips, and it isn't the longest-lasting type of restoration.
When more of the tooth structure is missing, a crown (or cap) might be needed to restore the tooth's appearance and function. This involves creating a replacement for the entire visible part of the tooth in a dental lab — or in some cases, right in the office. It typically involves making a model of the damaged tooth and its neighbors, then fabricating a replica, which will fit perfectly into the bite. Finally, the replacement crown is permanently cemented to the damaged tooth. A crown replacement can last for many years if the tooth's roots are in good shape. But what if the roots have been dislodged?
In some cases it's possible to re-implant a tooth that has been knocked out — especially if it has been carefully preserved, and receives immediate professional attention. But if a tooth can't be saved (due to a deeply fractured root, for example) a dental implant offers today's best option for tooth replacement. This procedure has a success rate of over 95 percent, and gives you a natural looking replacement tooth that can last for the rest of your life.
So what have we learned? If you take care of your teeth, like strongman Atom, they can last a long time — but if you need to move your car, go get the keys.
If you would like more information about tooth restoration, please contact us or schedule an appointment for a consultation. You can learn more by reading the Dear Doctor magazine article "Crowns & Bridgework."