Posts for: April, 2015
By Modern Dental Group
April 24, 2015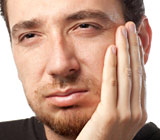 Temporomandibular Disorder (TMD), which was formerly known as Temporomandibular Joint Disorder (TMJ), is an interesting condition because it can be hard to diagnose and often mimics many other conditions. It arises when there are problems inside the temporomandibular joint, and the muscles attached to it, causing pain. When treating TMD, we typically start by relieving the symptoms of pain and discomfort with heat, mild pain medications, a diet of soft foods, and some simple jaw exercises. We feel that it is critical to address your pain issues as soon as possible before preceding any further with treatment.
Once we have provided some pain relief and after having completed a thorough history and examination, we can move to the next phase of treatment. This may include the introduction of a bite guard or some form of oral appliance therapy. A bite guard is an unobtrusive yet rigid plastic horseshoe-shaped appliance that fits snuggly over the biting surfaces of the upper teeth. When in place and properly adjusted, this custom-made appliance allows your muscles and therefore jaw joints to relax. And it will prevent you from grinding your teeth, another contributing factor to TMD. We will probably ask you to wear it when sleeping or in times when you are feeling stressed when clenching or grinding habits may be active. We may also suggest that you obtain some relaxation therapy and/or biofeedback from a licensed therapist, as this can prove helpful in treating TMD.
If you have suffered from frequent jaw pain in the past and suspect that you may have TMD, please let us know so that we can address it at your next appointment. Or if you are currently in constant or severe pain, contact us immediately to schedule an appointment. You can learn more about the signs, symptoms, and treatment options for TMD by reading "TMD — Understanding The Great Imposter."
By Modern Dental Group
April 09, 2015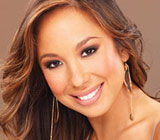 Growing up with a dentist stepdad, Cheryl Burke of Dancing with the Stars heard a lot over the years about the importance of good oral hygiene — in particular, the benefits of using dental floss.
"My dad would say, 'make sure you floss,' but I never really listened to him. I was very, very stubborn," Cheryl told Dear Doctor magazine recently in an exclusive interview. Cheryl admits this stubbornness took its toll, in the form of tooth decay. "I definitely had my share of cavities," Cheryl recalled.
Cavities can form when food particles, particularly sugar and carbohydrates, are not effectively cleaned from the spaces between teeth. These particles are then broken down by bacteria naturally present in the mouth, resulting in the production of acids that attack the tooth enamel.
When she reached her twenties, Cheryl decided she really needed to step up her oral hygiene and cultivate an asset so important to a professional dancer: a beautiful smile. And once she did, cavities became a distant memory.
"I think when you do floss frequently, it helps to reduce the chances of getting cavities," Cheryl said. "It took me a while to figure it out." Now Cheryl flosses after every meal. "I carry floss with me wherever I go. I have no shame busting out my floss in the middle of a restaurant!" She declared.
Dental decay is actually a worldwide epidemic, especially among kids. Untreated, it can lead to pain, tooth loss, and, because it is an infectious disease, it may even have more serious systemic (whole body) health consequences. The good thing is that it is entirely preventable through good oral hygiene at home and regular professional cleanings here at the office.
If it has been a while since you or your children have seen us for a cleaning and check-up, or you just want to learn more about preventing tooth decay, please contact us to schedule an appointment for a consultation. If you would like to read Dear Doctor's entire interview with Cheryl Burke, please see "Cheryl Burke." Dear Doctor also has more on "Tooth Decay: The World's Oldest & Most Widespread Disease."