Posts for: November, 2014
By Modern Dental Group
November 26, 2014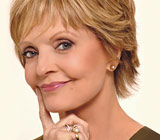 Florence Henderson, star of one of television's most beloved situation comedies, is still actively engaged in a variety of projects at 75-plus years of age. Her bright smile was part of her character as Carol Brady in The Brady Bunch, a popular sitcom that played for five seasons from 1969 to 1974. Though the show was discontinued, syndicated episodes continue to play in the U.S. and 122 other countries.
"I played Carol as the mother I always wished I had," she told Dear Doctor magazine. Her portrayal of mother and wife in a blended family with six children won her the Smithsonian Institution's TV Land Pop Culture Icon Award, which is on display in the National Museum of American History in Washington, DC.
After her successes on Broadway and in television, she was selected for numerous product endorsements, and The Wall Street Journal ranked her #5 in their top ten television endorsers based on viewer satisfaction. One of the products she endorsed was Polident, a brand of denture cleaners and adhesives. However, Henderson has revealed that she has her own natural teeth and does not wear dentures. Her advice to others who want to keep their natural teeth is to pay attention to prevention. "I think the most important thing one can do as with any health issue is prevention," she said. "Flossing, brushing, and regular dental checkups are vitally important if you want to keep your natural teeth."
When she was 22, she says, she had four impacted wisdom teeth removed at the same time. This experience made her aware of the importance of dental care, and since then she has had a checkup every six months. Wherever she travels, she says that she always has mouthwash, dental floss, toothpaste, and a toothbrush on the set.
Contact us today to schedule an appointment to discuss your questions about tooth care. You can learn more about Florence Henderson by reading the Dear Doctor magazine interview "Florence Henderson, America's Favorite TV Mom Has Many Reasons to Smile."
By Modern Dental Group
November 11, 2014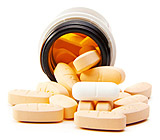 If you've come in to our office lately, chances are you've been asked to fill out a form or answer a question about what medications — both prescription and non-prescription — you are currently using. Of course, if you're taking a blood-pressure drug or a pill to help control your cholesterol, you wouldn't hesitate to put it on the list. But how about those vitamins and herbal supplements you take — do you really have to list those too?
The answer is a definite yes — and some of the reasons why may surprise you. Did you know that many "natural" dietary supplements can have potentially serious interactions with other drugs you may be prescribed? For example, herbal preparations made from the plant called St. John's Wort are often used by people seeking relief from depression or anxiety. However, the active chemical compounds in this herb can interfere with some anesthetic drugs, and may make it harder for you to recover from the effects of anesthesia. Ginkgo biloba and some other commonly used herbs have a similar effect.
Even some vitamins have the potential to cause negative interactions. Large doses of Vitamin E, for example, can increase the risk of internal bleeding in people who are taking blood thinners or non-steroidal anti-inflammatory medications (NSAIDS), such as aspirin and ibuprofen. These medications are commonly prescribed for pain relief after minor dental procedures.
Does that mean you have to stop taking vitamins and herbal supplements if you may need a dental or medical procedure? Not necessarily. Vitamins are indeed vital to your health, and a deficiency in one or more of these important substances can result in serious diseases — like scurvy, which formerly plagued sailors lacking access to fresh fruits and vegetables. If you've been told you have a vitamin deficiency, taking vitamin pills is a must.
But the best way to get the proper amount of vitamins is through a healthy, well-balanced diet rich in fruits, vegetables, and whole grains. Not only does consuming these foods give you the most "natural" source of vitamins — it also provides you with other essential micronutrients and fiber, and it is low in fat and cholesterol.
No nutritional supplement is a substitute for a healthy diet — and that's something we'd like everyone to remember. We'd also like to remind you to tell us about ALL the medications and supplements you're taking, especially if you're going to have a procedure. Giving us complete information will help ensure that you'll remain as healthy and safe as possible.
If you have questions about dietary supplements, nutrition and your teeth, please call our office to arrange a consultation. You can learn more in the Dear Doctor magazine article "Vitamins & Dietary Supplements: What Every Consumer Should Know."