Posts for: January, 2014
By Modern Dental Group
January 23, 2014
While genetics certainly plays a role in a person's susceptibility to various forms of cancer (including oral cancer), there are lifestyle factors that also play a role.
In the case of developing oral cancer, there are a number of prominent lifestyle changes you can make to help reduce your risk: protect yourself from too much sun exposure; avoid the use of any type of tobacco (smoke and smokeless); limit your intake of alcoholic beverages to a moderate level; abstain from risky sexual behavior; and eat a diet rich in fresh fruit and vegetables, as well as other whole foods.
That last lifestyle change not only reduces your level of negative exposure from the environment, it may also provide a positive effect as well. For example, normal cellular function produces unstable molecules known as "free radicals" that can damage the DNA structure within the cell; this could be a precursor to the development of cancer. There are natural substances, however, that can help protect cells against the damage caused by free radicals. These are known as "antioxidants" and they are abundant in many plant-based foods. You, of course, may know them by other names: vitamins, carotenoids (found in red and orange fruits and vegetables) or fiber, to name a few.
A well-balanced diet can provide these and other kinds of cancer-fighting nutrients. And, it's important that you eat the source of these nutrients — fresh plant-based foods. Studies have shown that dietary supplements can't match the effectiveness of actually eating fruit and vegetables.
Besides lowering your cancer risk, a plant-based, whole food diet will also result in better oral health. Diets heavy in processed foods with high amounts of sugar or other bacteria-friendly substances inhibit good oral health.
If you would like more information on the role of diet in reducing your risk to cancer, please contact us or schedule an appointment for a consultation. You can also learn more about this topic by reading the Dear Doctor magazine article "Diet and Prevention of Oral Cancer."
By Modern Dental Group
January 08, 2014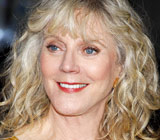 After her husband, producer Bruce Paltrow, succumbed to oral cancer in 2002, actress Blythe Danner made it her mission to help save other families from the heartache she and her children (Jake and Gwyneth Paltrow) suffered with his loss. Now active with the Oral Cancer Foundation, Blythe uses her fame to bring awareness to the disease, which she says she and her family knew very little about before Bruce received his diagnosis.
In an interview with People magazine, Blythe said she believes her husband's cancer could have been detected earlier if the family had been alert to the symptoms.
"For months I had noticed Bruce's voice was hoarse," she said. "I started asking him to see a doctor. But he kept saying, 'No, no, no, I'm fine.' "
When a lump became visible in his neck, he did go to the doctor and found he had a tumor in his throat. The cancer eventually spread to his lymph nodes. Compounding Blythe's sadness is the feeling that she might have been able to do something to prevent her husband's death.
"I feel tremendously guilty," she told the magazine, noting that she wishes she had simply insisted her husband get himself checked out. "Education and early detection are so important," she said of her campaign to raise awareness. "That's why I'm doing this."
Though Bruce Paltrow was a smoker, it's important to note that young, non-smokers comprise the fastest-growing segment of the population being diagnosed with the disease. That's because a sexually transmitted virus known as HPV16 is now a major cause of oral cancer.
Oral cancer screenings are yet another good reason to make regular semi-annual visits to the dentist. We have the training to notice oral abnormalities, and to monitor and/or biopsy any suspicious lesions. At your oral cancer screening, we will feel your neck for lumps and inspect your lips and all inside surfaces of the mouth, including the back of your throat.
Of course, if you or a loved one experience persistent hoarseness, white or red patches or other changes in your mouth or tongue that don't go away in a few weeks, please don't hesitate to come in and see us.
If you have any concerns about oral cancer, please contact us or schedule an appointment for a consultation. You can learn more about the disease in the Dear Doctor magazine article "Oral Cancer."