Posts for: January, 2013
By Modern Dental Group
January 15, 2013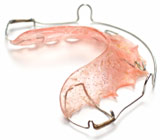 On the day when braces come off, most people feel that their orthodontic treatment is over. When they are then asked to wear retainers, they may wonder what this additional requirement will accomplish. Wasn't the work of moving their teeth to desired positions already completed? To understand the answer to this question, you need to understand how orthodontics works.
How does orthodontic treatment remodel your smile?
Although they give the appearance of being stable and unmoving, teeth and their surrounding structures (gums, jawbones, and ligaments) are living tissues and are actually in a constant state of change.
Teeth are rooted in bone and are attached by a fibrous tissue called the periodontal ligament (from peri meaning around and odont meaning tooth). One side of the ligament attaches to the cementum (part of the tooth's root) and the other side is attached to the bone, with the tooth suspended in between.
These tissues are constantly remodeling themselves, but pressure from the lips and cheeks on one side and from the tongue on the other create a balance that keeps the teeth suspended in the same location. When mild forces are placed on the teeth, such as the forces from the wires used in orthodontic treatment, the tissues slowly adapt and rebuild, resulting in a new position for the teeth.
What are retainers?
Orthodontic retainers are devices usually made of a clear plastic section that is fitted to the roof of the mouth, with thin wires that fit over the teeth.
What is the purpose of retainers?
The remodeling process keeps going after the orthodontic treatment stops, so time is needed for the teeth to reach a new balanced state. The retainer stabilizes them in their new position so that bone and ligament can reform around the teeth and hold them there. This works well for adolescents, whose jaws are in a state of growth, but adults may need outside assistance to stabilize their teeth for a longer time. They may be asked to wear retainers indefinitely to make sure their teeth do not move from their new positions.
What happens if you don't wear your retainers?
If you don't wear your retainers, your teeth are likely to return to the positions they had prior to your orthodontic treatment. This can happen fairly rapidly, underscoring the importance of wearing retainers as instructed.
What are the different types of retainers?
Most retainers are removable devices as described above. For people who require long-term use of retainers, thin retainer wires can be bonded to the inside surfaces of their front teeth. Such wires are usually left in place for several years, relieving them of the need to remove and replace their retainers.
Contact us today to schedule an appointment to discuss your questions about orthodontics and retainers. You can also learn more by reading the Dear Doctor magazine article "Why Orthodontic Retainers?"
By Modern Dental Group
January 05, 2013
It is not often that you find a celebrity who is willing to speak candidly about any cosmetic or restorative dentistry that he or she has had. Instead, most prefer that their fans just assume that their dazzling "Hollywood" smile is something that just happened naturally. However, that is not the case with Kathy Ireland, the former Sports Illustrated cover girl, current business mogul and founder of kathy ireland Worldwide, a billion dollar marketing and design firm. In a Dear Doctor magazine cover story she talks openly about her dental experiences, injuries and treatment so that people worldwide can understand what may be possible for them.
For Kathy, it happened several years ago when she was playing with her husband and children in their driveway. Kathy decided that she would stand in her children's wagon and surf across their driveway. Instead, she ended up "face-planting," as she describes it, in a freak accident that left her with a broken nose, split forehead and several broken teeth. She recalls that it sounded like a watermelon had smashed. Luckily, her husband, an emergency room physician, was on hand to care for her. Kathy is just as thankful to her cosmetic and restorative dentist who restored her trademark smile with some veneers and a dental implant. Today, the only reminder she has from this accident is a small scar on her nose that she covers with a little makeup.
You would think that this accident would be enough trauma for one person; however, Kathy describes an earlier accident where she knocked out a tooth and then later knocked it loose again. Kathy also wanted to take the time to let readers know that her dental implant experiences were "pretty easy." She did recall, "hearing all the sounds while all of it was going on" and then added, "but I have to tell you, that after being a mom and having kids, going to the dentist...is like going to the spa!" She said that she has even fallen asleep in the dental chair.
To learn more about Kathy Ireland, continue reading the Dear Doctor magazine article "Kathy Ireland." Or if you think cosmetic or restorative dentistry is right for you, contact us today to schedule an appointment to discuss your specific goals.