Welcome - Erie, PA Dentist
Dentist Erie, PA - Modern Dental Group
The doctors of Modern Dental Group have been at their same location since 1986. In those years, they have continually kept current with the advances in the latest dental technology. The most recent update was the introduction of digital x-rays. This technology provides the doctors with information that goes beyond the traditional x-rays, in addition to providing high quality imaging with greatly reduced radiation exposure.
We have two offices to meet all of our patients needs. Currently all four of our doctors are practicing and accepting new patients at our Downtown location.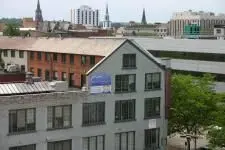 Our downtown Erie, PA dental office is located in the Modern Tool Building across from Hamot Hospital. We are conveniently located a few blocks from the Bayfront Highway, providing easy access to our office from anywhere in the Erie area. There is a metered off-street parking available in the parking lot adjacent to our building.
In addition to our downtown office, we have our west side office, to better serve all our patients in the Erie area.
Modern Dental Group West is located at 3464 West 26th street, across from Dairy Queen. We have off street parking in the lot next to our building.
Dr. Shawn Casella, Dr. David James DeMarco and Dr. Christopher DeMarco are currently practicing and accepting new patients at our west side office.